This two-day institute focuses on supporting the principals from one district in thinking through how to support the implementation of Investigations in Number, Data, and Space. « Return to Face-to-Face Courses 
Upcoming Institutes: None currently scheduled
Tuition: $10,000 for up to 25 principals; $400 for each additional principal.
Have Questions? Contact us to learn more, for information on hosting a workshop, or to have a conversation about which offering might be best given your particular situation/needs.
Telephone: 617.873.9785
Fax: 617.873.9601
Email: investigations@terc.edu
Save
Save
Save
In This Course, Participants…
think about their role as supporters of implementation, leaders, change agents, listeners, observers, and evaluators
learn about the content of Investigations and its alignment to the Common Core
do mathematics together, including Ten-Minute Math Activities and Classroom Routines
visit several classrooms via video and plan for classroom observation
examine change and its effect on implementation
focus on support structures for teachers, parents, and the wider community
explore assessment in Investigations and in their own school/district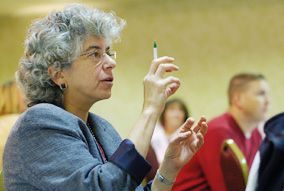 This institute has strengthened my confidence and ability to go in front of parents and board members to talk about what we're doing in math.
— Principal, Massachusetts
Who Should Attend
A group of principals and/or assistant principals from the same district.
Clock Hours
Receive a certificate indicating 12 clock hours upon completion of the institute.
Graduate Credit
Graduate credit is not available for this institute at this time.