Frequently Asked Questions about our Professional Development
How do I bring Investigations professional development to my district?
Whether you want customized PD or to host one of our offerings, call us at 617-873-9785 or email us at
investigations@terc.edu
and we will arrange to go to your district.
What is the daily schedule for a Workshop?
Our workshop days are usually from 8:30 to 3:30, though they can vary. Typically there are two 3-hour sessions, each with a break, and an hour for lunch. Often, there are readings for homework.
What is the difference between a synchronous online workshop and an asynchronous online course?
In an asynchronous online experience, participants choose when to be online. Synchronous experiences take place in real time, with people meeting together at a set time via Zoom. 
Can I schedule a workshop or an online course that is only for the teachers in my district?
Yes. Contact us—at 617-873-9785—to schedule a workshop or an online course exclusively for the teachers in your district.
Can a team from a school/district attend an online course together?
Yes. Teams from schools who have taken an online course together have met face-to-face at their school/district to review and reflect on the week's assignments. We have heard positive comments from those who had that 'blended' opportunity. Participants are still responsible to engage in the course's Discussion Forum conversations.
What is the weekly schedule of an online course?
Each week starts on Wednesday and ends on the following Tuesday. Our online courses are asynchronous, so there is no set time when everyone meets together; each person decides on their own schedule. Typically, participants spend 4-6 hours going through the activities, readings, and reflections of the week's session. Participants engage in conversations on the Discussion Forum for the course: they post, read and reply to others' comments.
What materials do I need for the online course?
All readings and handouts for activities and games are provided online. We recommend manipulatives for some sessions, depending on the course. We have found virtual options for most manipulatives.
Can I do the work of an online course on a tablet or phone?
Yes, you can access the course via a tablet and mobile phone. A few interactive pieces in the course may only be accessed by computer. Tablets and phones are great ways to keep up with the conversations on the Discussion Forum and complete reading assignments.
What is your cancellation/substitution policy?
Cancellations may be made 21 days prior to the first day of the offering in writing without penalty. Cancellations made less than 21 days prior to the first day of the offering will result in a $100 cancellation fee. Any participant who does not attend the offering and has not notified TERC with a written notice of cancellation forfeits the entire registration fee. TERC reserves the right to cancel an offering if enrollment is insufficient. In that event, a full refund of the registration fee will be made to the participants. Please note: payment for all courses and workshops is due prior to the first day of the event.
Have a question we didn't answer? Contact us to learn more about our offerings, to discuss hosting a Workshop or online course, or to have a conversation about which offering might be best given your particular situation, needs, goals and objectives.
Telephone: 617.873.9785
Email: investigations@terc.edu
Twitter: @Inv3_Math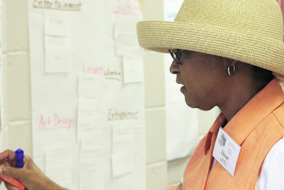 "This workshop has strengthened my confidence and ability to go in front of parents and board members to talk about what we're doing in math."
Join Our Mailing List
Learn about newly scheduled professional development opportunities and get updates about the curriculum.