Review and Practice in Investigations 3
The Structure of the Curriculum
Review and practice is built into the sequence and structure of the units within and across grades. The units in each strand build on work from previous grades and units, and prepare students for subsequent grades.
Features of a Unit
Every unit includes practice of the content of that unit, as well as review of content from previous units. This work takes place in the whole class setting, independently, and in pairs and small groups, in the following ways:
Classroom Routines and Ten-Minute Math Activities
These short whole-class activities, taught daily outside of/in addition to the 60-minute class session, offer ongoing skill-building, practice, and review, and help students increase their repertoire of strategies for mental computation and problem-solving.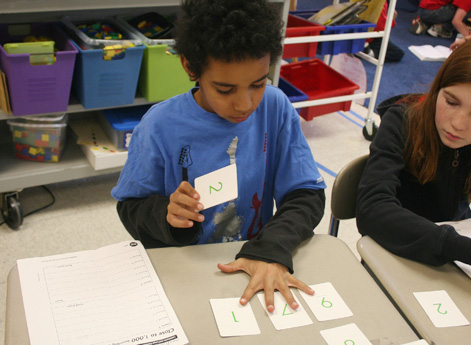 Review and practice play a critical role in the Investigations curriculum. Because students need repeated experiences with an idea, concept, or skill in order to become fluent with it, opportunities for meaningful review and practice are embedded throughout Investigations.

Games
Games are a critical piece of the review and practice throughout the grades. They often happen in pairs or small groups, though some can be played individually.Repeated practice with games often happens within Math Workshop—a classroom structure that allows students to work on a variety of related activities across several Sessions. Most games are available digitally, providing ways for families to do mathematics together at home.
Homework and Daily Practice
Homework and Daily Practice Pages provide opportunities for individual practice. Homework typically reinforces the work done in class or prepares students for an upcoming activity. It varies in frequency, from occasionally in Kindergarten to four or five times a week in Grade 5. Practice Pages—daily in 1-5, once per Investigation in K—support review and practice of current and previous content.
Math Words and Ideas
This digital resource, referenced on every homework and Daily Practice page, summarizes and illustrates important math words and concepts at each grade, and allows students to revisit and review the important mathematics they are working with throughout the year, in school and at home.
Visit the Grade 3 table of contents and choose a topic to explore.
Learn More
To learn more, watch our webinar about the Review and Practice in Investigations 3.
Save